My Familiar Unfamiliar
I dreamed there was an island
is the first joint exhibition project by
Nevena Aleksovski
and
Maja Babič Košir
, who work together under the name MY FAMILIAR UNFAMILIAR. The formation of the artist duo was a spontaneous and natural process that came about thanks to their very similar artistic practices and methods. The result is a distinctly multimedia and multilayered experiment, a specific visual dialogue between the two artists, who otherwise work independently in printmaking, illustration, drawing, painting and sculpture, but who share far more than complementary tastes and aesthetics. With certain aspects of their identity (woman, artist, precarious worker and migrant), they tried to find common ground that would help them transform the particular into the universal. They found these initially in their fragmented, minimalist pictorial language, but later also in their exploration of notions of origin and personal as well as collective identity in the context of the Yugoslav arena, in their exploration of the experience of (non-)belonging, alienation and nostalgia, and not least in the question of how the answers to these questions – which are usually never really answered, as they are never absolute – have shaped their artistic practices. Through the creative process, they found that both explore seemingly contradictory relationships that are of constitutive importance to them on a personal and creative level, such as past/present, internal/external, emotional/rational, independent/collective and personal/political.
---
Nevena Aleksovski
Nevena Aleksovski
(1984) graduated in painting in 2008 at the Academy of Fine Arts and Design in Novi Sad and obtained her Master's degree in Cultural Studies in 2014 at the Faculty of Social Sciences in Ljubljana. The main focus of her art production is on the mediums of painting and drawing, through which she establishes a direct and immediate process of creating without a crystalized, pre-determined image. In her work, she frequently questions and subtly comments on the universal human experience, emotional states resulting from the feeling of alienation as well as discordances and absurdities of modern times. She has presented herself at numerous shows in Slovenia and internationally, including the group exhibitions
Zines! Contemporary Zine Production
at the International Centre of Graphic Arts and
Somethin's Written
at the Vodnik Homestead within the framework of the Institute SCCA Ljubljana. She has also held independent exhibitions at the art fairs Vienna Contemporary (2020) and Art Rotterdam (2021). In 2022, she is preparing her first joint exhibition with the fellow artist Maja Babič Košir at RAVNIKAR GALLERY SPACE.
---
Maja Babič Košir
Maja Babič Košir
(1978) graduated and obtained her Master's degree in sculpture at the Academy of Fine Arts and Design in Ljubljana. She completed her postgraduate studies in creative illustration and visual communication techniques at the EINA University School of Design and Art in Barcelona. Her creative process is based on the principle of meditative introspection. She draws subject matter from her environment and personal history, especially from her rich family archives holding a wide array of materials; this enables her to use intuitive artistic interventions in translating her intimate stories into a visual form. She has participated in numerous independent and group exhibitions, especially in Portugal and Spain, where she lived and worked for almost ten years. She takes regular part in international contemporary art fairs, for example, SWAB Barcelona Art Fair in 2020 and Vienna Contemporary in 2019, 2020, and 2021. In 2021, she also debuted at VOLTA Art Fair in Basel. In 2022, she participates in the new Vienna art fair
SPARK
and is preparing her first joint exhibition with the fellow artist Nevena Aleksovski at RAVNIKAR GALLERY SPACE.
---
My Familiar Unfamiliar
︎︎︎ AVAILABLE WORKS


My Familiar Unfamiliar, 2022
Sweet disguise
Acrylic on canvas, ceramics, branch
My Familiar Unfamiliar, 2022
Dear brother
Mixed media on paper
My Familiar Unfamiliar, 2022
Hand in Glove
Oil on canvas, plastic folias, stone
---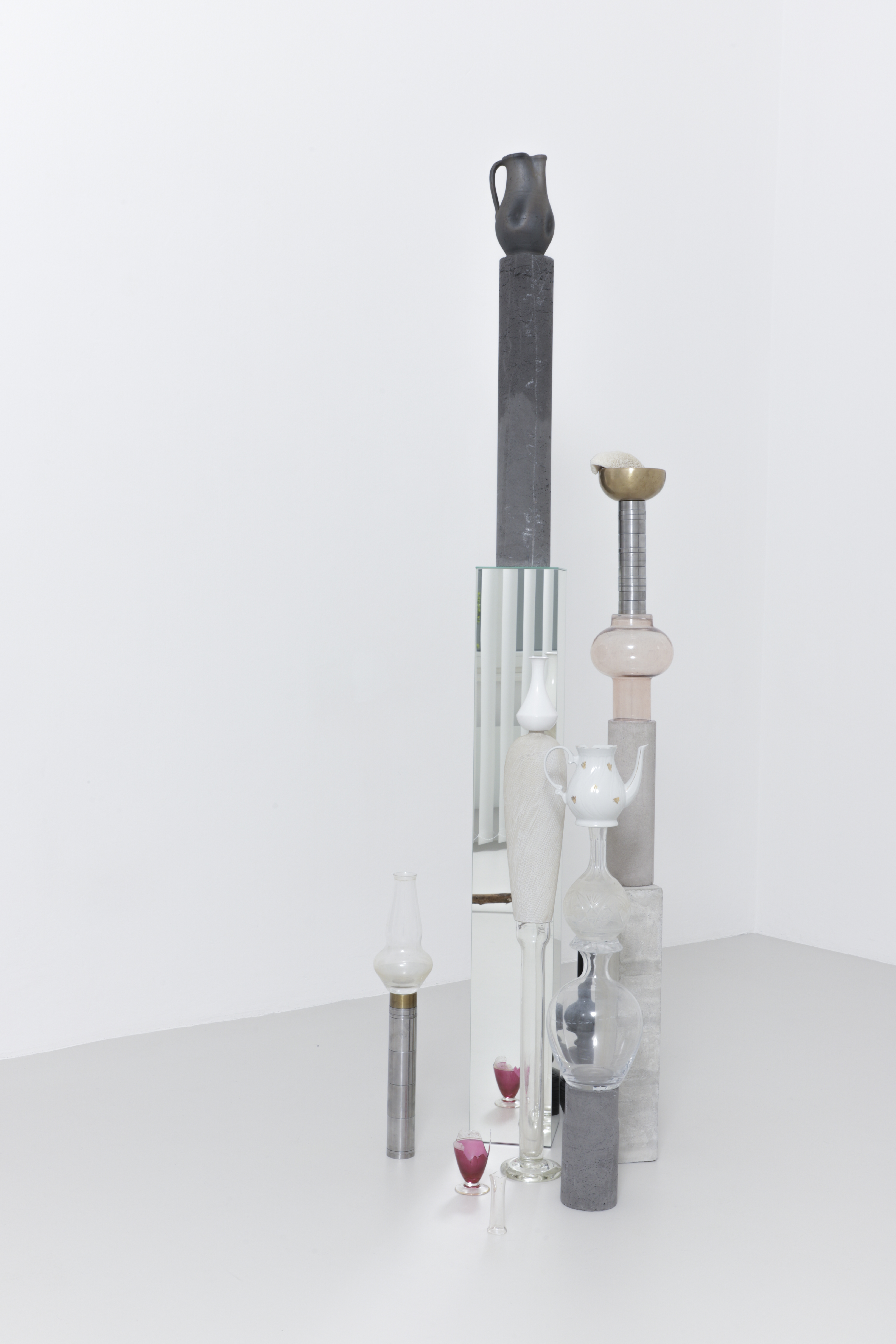 My Familiar Unfamiliar, 2022
Cloudbusting, sculpture
Glass, Porcelain, Concrete, Coral, Iron, Mirror, Tibetan singing bowl
My Familiar Unfamiliar, 2022
Foggy notion
Acrylic and charcoal on canvas, concrete, porcelain
---
My Familiar Unfamiliar, 2022
Through
Acrylic on canvas