Nina
Čelhar

Born in 1990, Postojna (SI)
Lives and works in Ljubljana (SI)

Nina Čelhar (1990) completed her undergraduate and postgraduate studies in painting at the Academy of Fine Art and Design in Ljubljana, where she received the Academy Award for Special Study Achievements. For a year, she was perfecting her knowledge at the Hochschule für Grafik und Buchkunst in Leipzig. Through the medium of painting, she explores the experience of dwelling. Her works focus on the meaning of architecture as basic living environment, exploring how it dictates our everyday lives and movements, in a way controlling and directing our very existence. Using limited palette, subtle and fragile technique, her paintings emit tranquil and elusive feel, steering the viewer into a psychological space, stripped of all tangible distractions. Nina Čelhar regularly presents her work in independent and group exhibitions at home and abroad. Her work is included in such collections as Albertina – ESSL and Riko.


︎︎︎ EDUCATION
---
2012


BFA in Painting, Academy of Fine Arts and Design, Ljubljana (SI)

2013, 2014

Exchange student, Hochschule für Grafik und Buchkunst, Leipzig (DE)

2018

MFA in Painting, Academy of Fine Arts and Design, Ljubljana (SI)
︎︎︎ AWARDS, GRANTS AND RESIDENCIES


---
2020
From Within, Open Studio, Ljubljana (SI); co-financed by Ministry of Culture (SI)

2019
Artist in Residence, RigenerArte, Treviso (IT); provided by Fondazione Benetton, Regione del Veneto and UNIS&F
Artist in Residence, London (UK); provided by the Ministry of Culture (SI)

2018
Artist in Residence, Omišalj, Island Krk (HR)

2017
Work scholarship, provided by Ministry of Culture (SI)

2016
Biennial exhibition Look 8 Award, Božidar Jakac Art Museum, Kostanjevica na Krki (SI)

2015
Essl Art Award CEE 2015, Collectors Invitation (AT/SI)

2013
First Prize, Contest for the best portrait of University Chancellor Prof. Dr. Pejovnik, University of Ljubljana (SI)

2012
Academy Award for Special Study Achievements, Academy of Fine Arts and Design, University of Ljubljana (SI)

2009 ‒ 2014
Zois scholarship for talented students (SI)


︎︎︎ COLLECTIONS
---

Albertina – Essl Collection, Vienna (AT)
Riko Collection, Ljubljana (SI)
Božidar Jakac Art Museum, Kostanjevica na Krki (SI)
Gallery Miklova hiša, Ribnica (SI)
RAVNIKAR COLLECTION, Ljubljana (SI)
University of Ljubljana, Ljubljana (SI)
Museum of Dolenjska, Novo mesto (SI)
Art Theorema, Luciano Benetton Collection, Treviso (IT)
Imago Mundi, Luciano Benetton Collection, Treviso (IT)
House of Culture Pivka, Pivka (SI)
︎︎︎ SOLO SHOWS
---
2023
Still (Waiting) Life, RAVNIKAR GALLERY SPACE, Ljubljana (SI)

2022
In Between, House of culture Pivka, Pivka (SI)

2020
Personal Residences, Bežigrad Galley 1, Ljubljana (SI)
To Dwell, 12 Star Gallery, London (UK)

2019
Balance, Tessitura La Colombina, Badoere (IT)
Subordinations (with Monika Slemc), Gallery Meduza, Koper (SI)

2018
Outside (Inside), Riko Debenjak Gallery, Kanal (SI)
Nina Čelhar, AIR [2018], Skalinada, Omišalj (HR)
Light on Light, Ravnikar Gallery, Ljubljana (SI)

2017
Concrete Facades, Gallery Robin, Murska Sobota (SI)
Houses in a House, House of culture Pivka, Pivka (SI)
Unconcrete (with Boris Beja), DLUL Gallery, Ljubljana (SI)
Lulls, Božidar Jakac Art Museum ‒ lapidarium, Kostanjevica na Krki (SI)
Wood, Concrete and Flowers, Miklova hiša Gallery, Ribnica (SI)

2016
Room (Plywood), Gallery Simulaker, Novo mesto (SI)
Room (Plywood), Kamera, Kino Šiška, Ljubljana (SI)
Dwelling Atmospheres, Tir Gallery, Nova Gorica (SI)

2015
Fleeting Atmospheres, UGM Studio, Maribor (SI)
Spaces of Belonging, Tower Škrlovec, Kranj (SI)
Additional Areas (with Anamari Hrup), ZDSLU Gallery, Ljubljana (SI)

2014
States of Sensitivity, Bežigrad Gallery 1, Ljubljana (SI)
︎︎︎ GROUP SHOWS
---
2022
Art Verona, Verona (IT)
viennacontemporary, Vienna (AT)

2021
We are Living in Interesting Times, The European Parliament, Brussels (BE)
GB 89-21, Bažato Gallery, Ljubljana (SI)
The Painting Now!, Monfort, Portorož (SI)
The Painting Now!, City Gallery of Nova Gorica, Nova Gorica (SI)
Hedosnim, Hochsommer Art Festival, Castle Grad, Grad, (SI/AT)
Hedonism 2020‒2021, Gallery 'S', Ljubljana Castle, Ljubljana (SI)

2020
When the Globe is Home, Gallerie delle Prigioni, Treviso (IT)
16th Novo mesto Art Days, Museum of Dolenjska, Novo mesto (SI)
AIR4, Ravnikar Gallery, Ljubljana (SI)
Green Cut, Equrna Gallery, Ljubljana (SI)

2019
Time Without Innocence. Recent Painting in Slovenia, Museum of Modern Art, Ljubljana (SI)
Unspoken Presences. From the Riko Art Collection, Miklova hiša Gallery, Ribnica (SI)
Vienna Contemporary, Vienna (AT)
Last Xmas I Gave You My Art, Ravnikar Gallery, Ljubljana (SI)
Biennial of the Slovenian Independent Illustration, Kino Šiška, Ljubljana (SI)
Skalinada, Kombinat, Rijeka (HR)
Omejena razstava, Teden kulture na placu, Metlika (SI)
AIR4, Ravnikar Gallery, Ljubljana (SI)
That is to Say, Everyone, Ravnikar Gallery, Ljubljana (SI)
OSM, Gallery of Contemporary Art, Celje (SI)

2018
Last Christmas I Gave You My Art, Ravnikar Gallery Space, Ljubljana (SI)
HKP20 / Everything is Changing, House of culture Pivka, Pivka (SI)
AIR4, Ravnikar Gallery Space, Ljubljana (SI)
Samo, House of culture Pivka, Pivka (SI)

2017
Something Ending, Something Beginning, Ravnikar Gallery, Ljubljana (SI)
Off the Hook, Neurotitan Gallery, Berlin (DE)
Young Female Art in Šiška, Galerija Gallery, Ljubljana (SI)
Embodiment, Equrna Gallery, Ljubljana (SI)

2016
Cut Outs / Intersections, From the Riko Art Collection, Gallery Miklova hiša, Ribnica (SI)
Off the Hook, UGM Studio, Maribor (SI)
Look 8, Lamut's Art Salon, Božidar Jakac Art Museum, Kostanjevica na Krki (SI)
Works on Paper, Galleria 5, Oulu (FI)
Personal, Škuc Gallery, Ljubljana (SI)
ALUO LXX. Past, Present, Future, Jakopič Gallery, Ljubljana (SI)

2015
Diverstiy of Voices, Essl Art Award 2015, Essl Museum, Klosterneuburg bei Wien (AT)
3rd Triennal of Young Artists ‒ Premiere 2015. Gallery of Contemporary Art, Celje (SI)
Essl Art Award CEE, Nominees' Exhibition, Museum of Contemporary Art Metelkova, Ljubljana (SI)

2014
Atopic body, Equrna Gallery, Ljubljana (SI)

2013
Preview Berlin Art Fair 2013, Berlin (DE)
Surviving with Creative Practices, Gallery Miklova hiša Gallery, Ribnica (SI)

2012
Transform: Pandora's Box, Telogleion Foundation of Arts, Thessaloniki (GR)
Entrance, Alkatraz Gallery, Ljubljana (SI)
SELECTED WORKS
---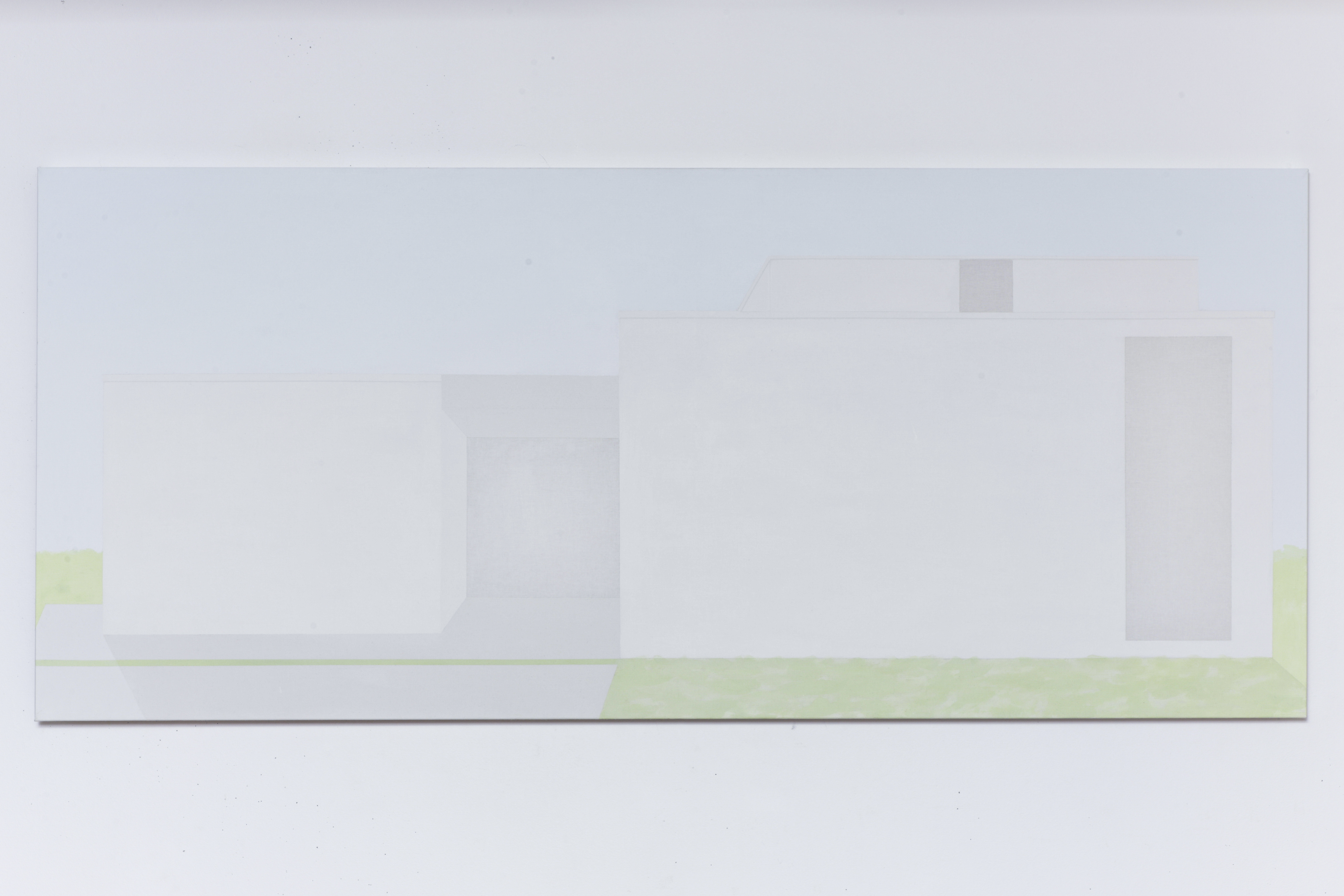 ---
Nina Čelhar, 2020
House (Morning)
Acrylic on canvas
82.5 × 190 cm
---
Nina Čelhar, 2021
No Title (Seamless)
Acrylic on canvas
50 × 40 cm
---
Nina Čelhar, 2021
No Title (Curtain)
Acrylic on canvas
50 × 40 cm
---
Nina Čelhar, 2021
No Title (Ledge)
Acrylic on canvas
50 × 40 cm
---
Nina Čelhar, 2021
Front
Acrylic on canvas
90 × 82 cm
---
Nina Čelhar, 2017
Back
Acrylic on canvas
90 × 82 cm
---
Nina Čelhar, 2020
Shielded
Acrylic on canvas
30 × 30 cm
---
Nina Čelhar, 2021
No Title
Acrylic on canvas
35 × 45 cm
---
Nina Čelhar, 2020
View (Bright), diptych
Acrylic on canvas
96 × 69 cm
---
Nina Čelhar, 2020
Embedded (Void) II
Acrylic on canvas
45 × 55 cm
---
Nina Čelhar, 2020
View
Acrylic on canvas
45 × 30 cm
---
Nina Čelhar, 2020
No Title (In the Midst)
Acrylic on canvas
30 × 24 cm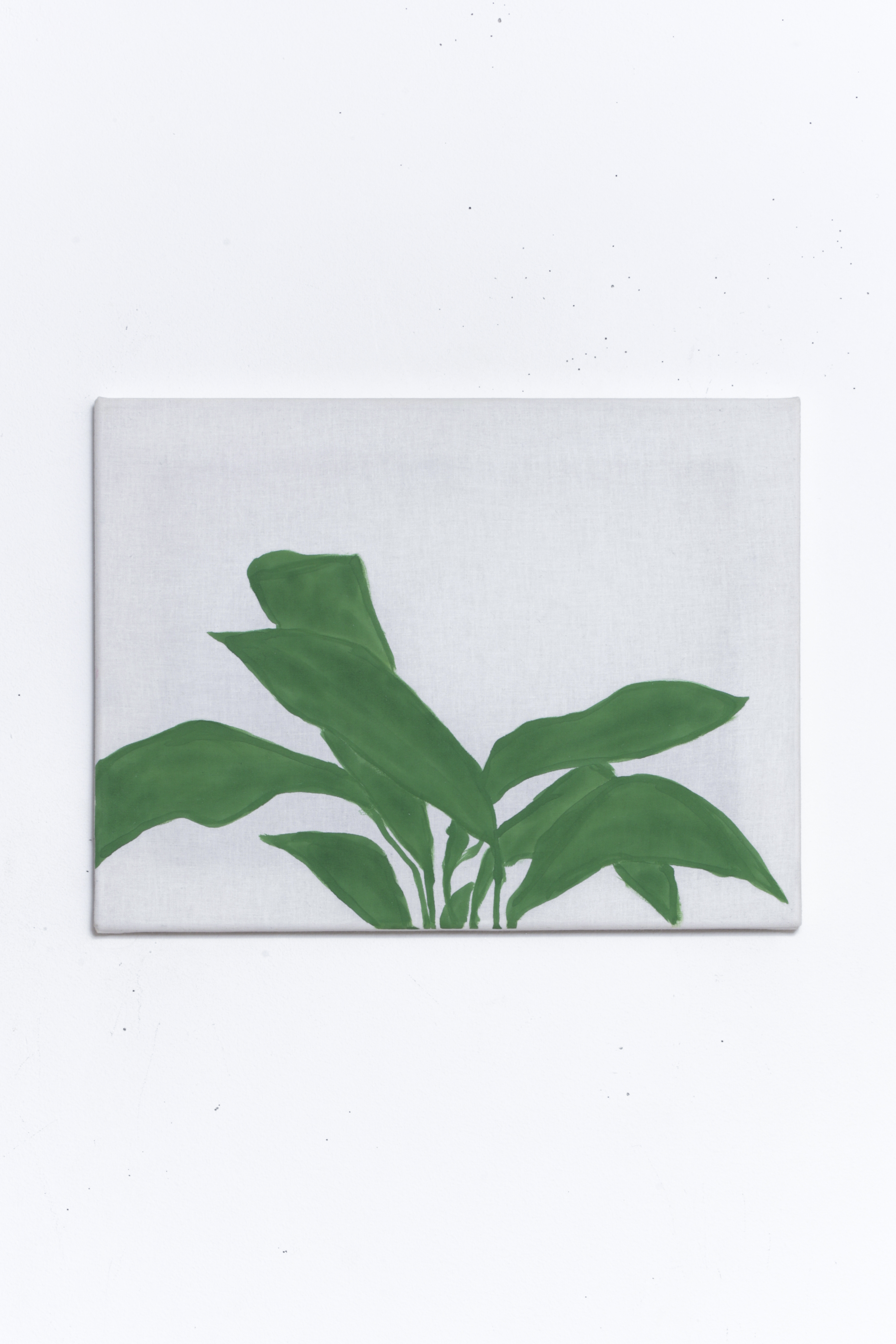 ---
Nina Čelhar, 2016
Spathiphyllum II
Acrylic on canvas
30 × 40 cm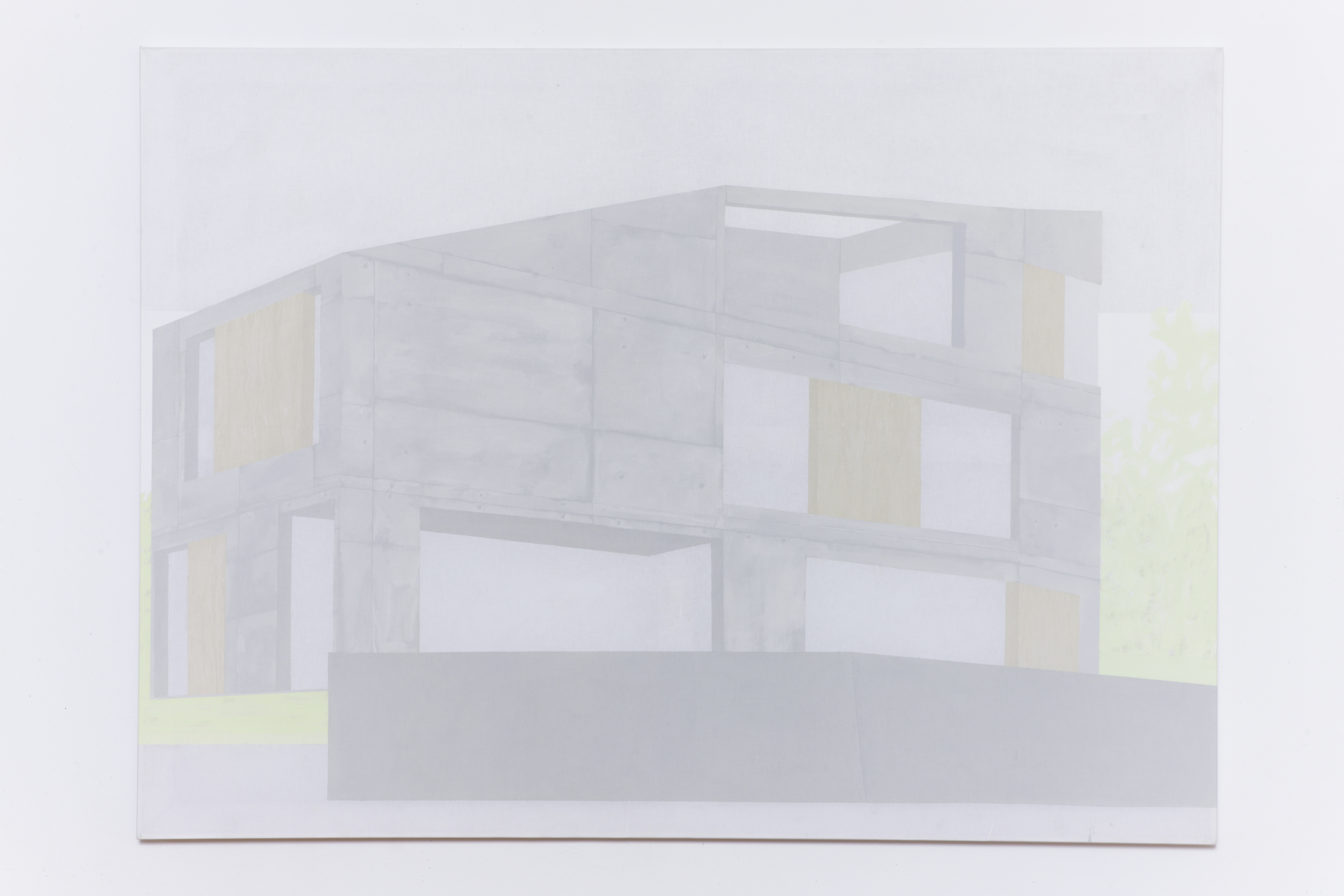 ---
Nina Čelhar, 2018
House VIII
Acrylic on canvas
140 × 190 cm
---
Nina Čelhar, 2018
House VIII
Acrylic on canvas
160 × 145 cm
---
Nina Čelhar, 2018
Box with Lid
Acrylic on canvas
40 × 30 cm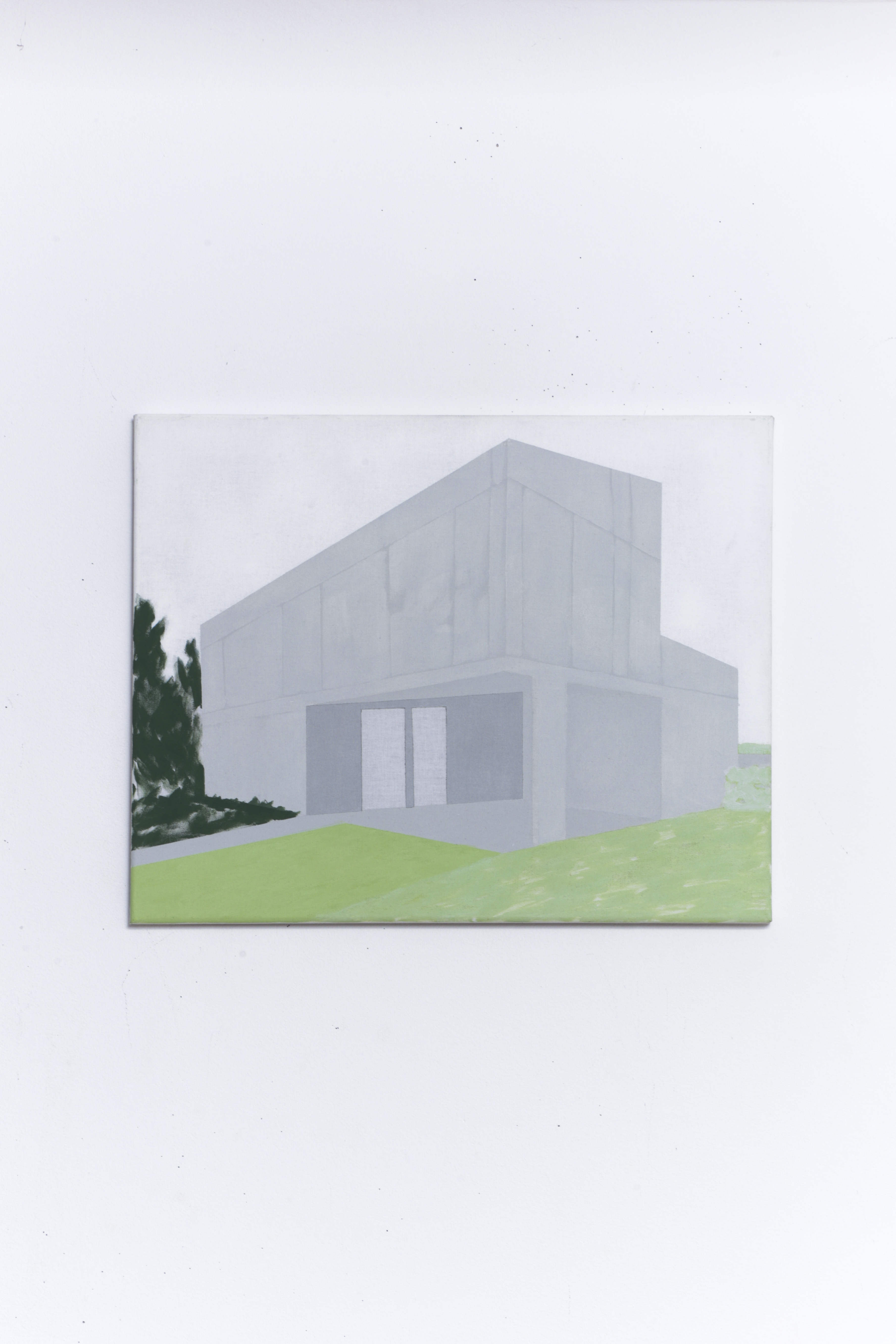 ---
Nina Čelhar, 2017
Morning
Acrylic on canvas
50 × 40 cm
---
Nina Čelhar, 2017
Calmness
Acrylic on canvas
50 × 70 cm
---
Nina Čelhar, 2017
View
Acrylic on canvas
50 × 70 cm
---
Nina Čelhar, 2016
Step Stool and Ushak Bird
Acrylic on canvas
90 × 82 cm
---
---