NIKA KUPYROVA:
Yaekahngai
September 08 — 11, 2022
CURATOR
Tjaša Pogačar
TEXT
Franz Thalmair
PHOTOGRAPHER
Mario Zupanov
︎︎︎STATEMENT
---
With strategies of revisiting—through multiple reiterations and variations of one and the same topic—
Nika Kupyrova
appropriates everyday objects, found images and texts as well as phenomena circulating in the pop cultural field. Even though the artist always approaches her themes with a curiosity that spans across disciplines, her works can be read, above all, as sculptural and installation-based explorations into how things are set, laid, and placed in space—hence, the composition of spatial contexts. Kupyrova employs exhibition spaces as stages to draw her audience's attention to her objects, which are often created by hand yet with an industrial appearance, but also to encourage a narrative among the exhibits, between the protagonists of the play.
Nika Kupyrova's sculptures conjure complete universes. Often they are something else than what they pretend to be: Material is imitated with other materials, familiar mass products turn into unique items, form replaces a new form, visual similarities cause irritation. For Kunstraum Lakeside, Kupyrova develops a new installation with the enigmatic title Yaekahngai, which delves into the ubiquitous alternative realities and parallel timelines that confront us today. "The title of the exhibition
Yaekahngai
came from a randomly generated WLAN password, which oddly sounded like a place to me," says the artist about the genesis of her installative setting in the Kunstraum, which she conceives as a passageway between the analog world and multiple digital realities: "A Mongolian spirit realm? A Japanese netherworld? For the first time, the title came to me before anything else in the exhibition, and became a departure point and catalyst for the project as a whole."
In Yaekahngai Nika Kupyrova starts with alternative realities as we know them from computer games; the screen, however, serves here as a portal to ghost worlds, astral journeys, and leaps in time. She works with digitally generated environments not only set in their portrayed time or in the time frame of their use, but also at specific places—hypothetical places which users only gain unrestricted access to when they find the right gate and have the appropriate tools, and only when they possess the password and thus the digital key to the gate. A central figure in the exhibition designed by the artist is the countless mushrooms whose varied appearances were created with the algorithmic methods of digital world construction: through systematic repetition and variation of one and the same form. The sculptures in Yaekahngai—made out of plaster and color pigments, not out of pixels—populate the exhibition space and transform a visit into a parcours, which can potentially lead to another world. In her exhibition, however, the artist does not just work with the fictional stories told in computer games; she also investigates the Lakeside Science & Technology Park as a context in which technological, social, and last but not least societal visions of the future are developed.
"Mushrooms are like a network," says Nika Kupyrova about the original six object templates made by hand, which she marbled in various shades of red, yellow, and blue and combined into more than 100 mushroom variants. "Mushrooms behave like a subterranean system that remains invisible to observers until distinct protuberances pop up in the forest, on the fields, and now in the exhibition space of the Lakeside Park." To simulate a credible organic environment with digital means, it is far too time and cost intensive to draw up each object, each blade of grass, each flower, each shrub, and each tree as a one-off specimen. Although digital landscapes are achieved with a great number of identical objects, certain individual elements of these objects are altered so as to trick the human eye with their diversity and disparity. Kupyrova translates these digital techniques in her analog variants.
Nika Kupyrova's
Yaekahngai
also draws inspiration from Stonehenge. She incorporates the pop cultural imaginations of this site in southern England as an arena for druidic, psychedelic rites. The artist presents this real place as a portal, an interstice between epochs in which the Neolithic Age spills into the 1960s and the current revived interest in psychoactive substances, like those contained in magic mushrooms. "Another phenomenon that uses the language of alternative, parallel, or other worlds to describe an experience and not a place is the psychedelic era," explains the artist. "It had a strong influence on the advent of digital art—and a good part of the graphic software from this time facilitated a virtually direct transmission of psychedelic images onto the screen, marking the beginning of their aesthetic kinship." Based on found photos of Stonehenge, there are sculptures in the exhibition Yaekahngai that seem to have come to a standstill in their own process of becoming: The two-dimensional photographs of the cult site metamorphose into the third dimension through drawing, where their wood and steel frames make them appear even flatter than their two-dimensional counterparts. Positioned like portals in the space, they silently bear witness to the stories and theories that envelop them, and tempt observers to literally and proverbially look at them from a different angle. In her artistic practice Nika Kupyrova frequently translates the digital into the analog and vice versa. She is interested in the shortcomings inherent to translation, which make the underlying process visible in the first place.
︎︎︎ABOUT THE ARTIST
---
Nika Kupyrova
is living and working in Vienna and Prague. She studied Painting at the Edinburgh College of Art, Fine Arts at the Iceland University of the Arts and Transdisciplinary Art at the University of Applied Arts in Vienna. Exhibitions include Karlin Studios FUTURA (Prague), WIELS Contemporary Art Centre (Brussels), EXILE Gallery (Vienna), Mattress Factory Museum of Contemporary Art (Pittsburgh), Belvedere 21 (Vienna), SODA Gallery(Bratislava), Kunstraum Niederoesterreich (Vienna) and Meetfactory Centre for Contemporary Art (Prague). Nika Kupyrova is a recipient of Erste Bank ExtraVALUE Art Award (2017) and Austrian state scholarship for emerging artists STARTStipendium (2019) – her works can be found in the collection of the Federal Ministry of Austria in (Artothek des Bundes) in Belvedere 21, collection ofWien Museum (Austria) as well as collections of Fait Gallery (Czech Republic) and the Mattress Factory Museum of Contemporary Art (USA).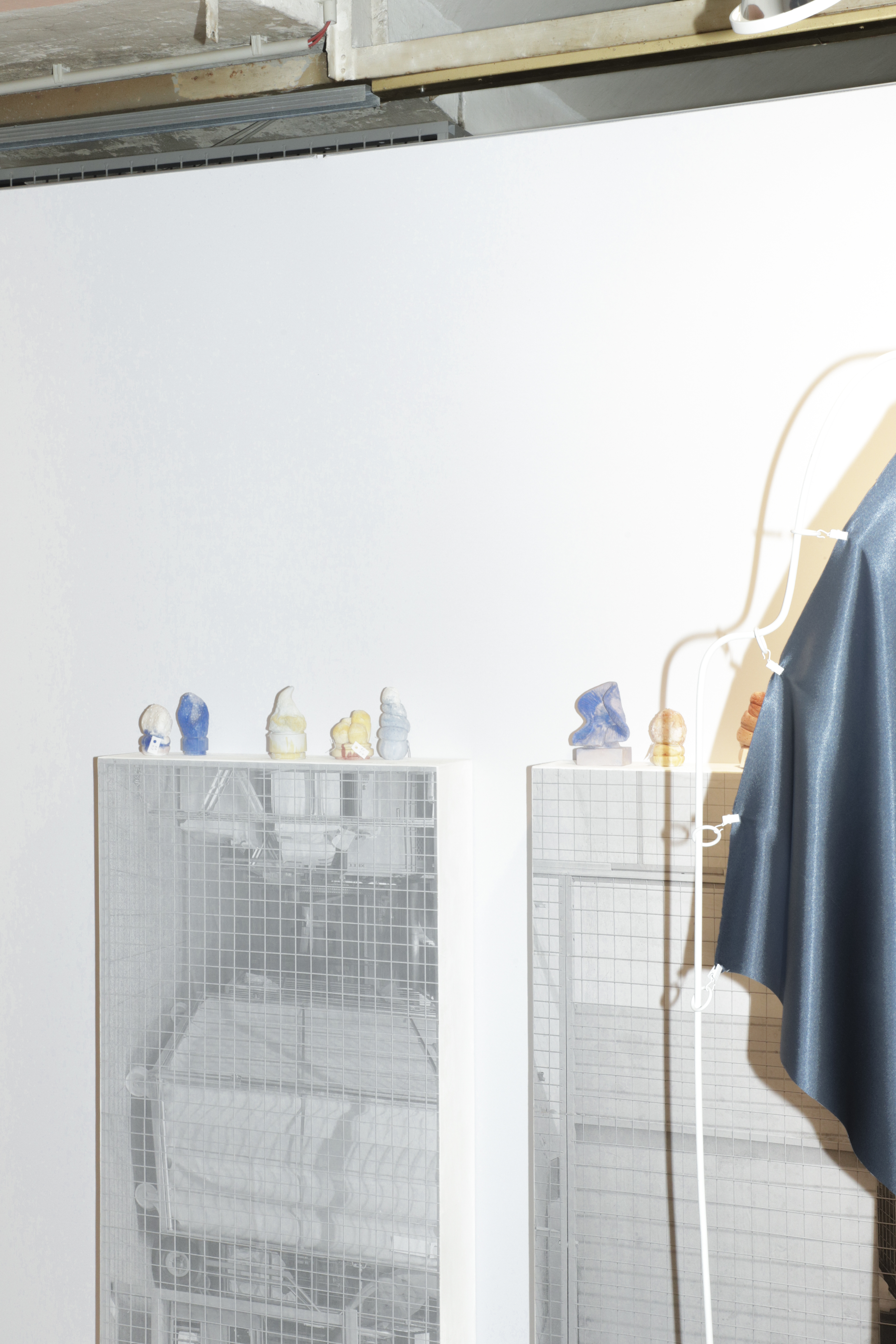 SELECTED WORKS
---
YAEKAHNGAI, 2020
---
Nika Kupyrova, 2020
BY2-1
Hard-finish plaster, yellow orche and ultramarine pigments
13 x 5,5 x 5,5 cm
---
Nika Kupyrova, 2020
RY1-4
Hard-finish plaster, yellow orche and iron oxide pigments
13 x 9 x 13 cm
---
Nika Kupyrova, 2020
RB5-1
Hard-finish plaster, iron oxide and ultramarine pigments
12 x 4,5 x 4,5 cm