TJAŠA RENER
All that Patterns
September 15 —
November 12, 2023


LOCATION
RAVNIKAR GALLERY
Vošnjakova ulica 4
1000 Ljubljana
CURATOR & TEXT
Piera Ravnikar
Bianca A. Manu
PHOTOGRAPHER
Mario Zupanov

︎︎︎STATEMENT
---
On canvas, Tjaša Rener plays with patterns, creating effervescent and evocative celebrations of life in West Africa.

Over a decade ago, the Slovenian artist and printmaker relocated to Lake Bosumtwi, a silver-mirrored lake in an ancient impact-crater southeast of Kumasi, Ghana. Rener co-created a lodge on the water, marrying her former Yugoslavian heritage with Ghanaian tradition. In 2016, she migrated to Accra, the capital, and constructed her studio, inspiring the seven artworks in this exhibition.

Her depictions reveal her continuous search for belonging; she finds solace in sentimental objects, using relics to replicate and reinterpret the feeling of home. Through paintings of her studio and neighbourhood, Rener raises questions about how history and context are impacted by geographical displacement.

Her compositions are characterised by striking detail, which she uses to illustrate nostalgic, cultural, and historical symbols of domestic objects embodying Slovenian and Ghanaian cultural histories. For instance, Ob Petih Zjutraj / 5 a.m. features an aerial view of a used ashtray, a neon green lighter, cherry-red Peko heels, and a hardback book. The scene is sensual, with signifiers such as "The Sex Lives of African Women" by Ghanaian author Nana Darkoa Sekyiamah. In this book, 32 Black and African women share their experiences, defying stereotypes surrounding African female eroticism. The juxtaposition of a soiled ashtray beside elegant and iridescent Peko shoes echoes this subversion of what constitutes female sexuality.

Through these unassuming objects, Rener conveys both personal and intimate with the public and historical. By placing Peko in the frame, she expresses her patriotism for a beloved emblem of Yugoslavia as the first independent producer of high-quality shoes, which was dissolved during nationalisation in 1948. The shoes symbolise femininity, representing 113 years of tradition and pride in Yugoslavian craftsmanship.

Her grouping of nostalgic items pays homage to industries and a national identity that no longer exists. Each object situates Tjaša in Ghana by placing her nationality within her country of residence. By placing unassuming objects from both locations together, Rener provokes conversation. In Tito Avenue, we see how aspects of the Non-Aligned Movement manifest in Ghana and are remembered in its street names.

In Studio Accra, Tjaša elevates the everyday into beauty: a wooden armchair becomes the focal point, accompanied by a bright blue and yellow stool holding a vase of pink hibiscus flowers, with "How to be an artist", a seminal text by Jerry Saltz, alluding to her preoccupation with her own artistic practice. In the same scene, a monochromatic vinyl floor is overlaid with a rubber geometric mat and a cheetah print cushion upon which a pair of dismembered mannequin's feet stand. From Tjaša's perspective, it makes sense. Her canvases visualise her reality, blurring between the inspired and imagined. The dissected feet feature without contradiction, showing how the surreal is unquestioned in Tjaša's world.

All that Patterns mark a homecoming for Tjaša as she grapples with an ever-changing identity, the challenges of living on the margins, and the objects she uses to anchor herself. In Vrt Gospoda Jamesa (Garden of Mister James), plants are suspended in the air. Yet, they have created a home within themselves, unrooted but still vibrant, verdant, and thriving: a powerful analogy of how Rener navigates society.


︎︎︎ABOUT THE ARTIST

---
Tjaša Rener is a visual artist with a practice primarily expressed through painting and screen-printing. Influenced by 20th-century modernists the human form is a central motif in her work, addressing portraiture from a Slovenian & Ghanaian perspective.

Her first encounter with screen-printing was during a summer residency in Macedonia in 2010, led by professor and artist Ines Krasić. Rener built on this experience through study at the International Centre of Graphic Arts (MGLC, Ljubljana) and subsequently at the Academy of Fine Arts and Design (ALUO), Slovenia (2010 - 2013). Her experimentation with screen printing and technical agility was recognised by the University of Ljubljana who awarded Rener a special merit prize in 2012.

In 2010, Rener began visiting Ghana, particularly a remote village by Lake Bosumtwi, a lake created from an ancient meteoritic impact crater. Living in an intimate local community has shaped her understanding of Ghanaian culture and how it manifests in daily life. Rener illustrated these nuances in her picture book, A Story from Africa, which was presented at the Slovenian Biennial of Illustration. It was later self-published following a successful Kickstarter campaign.

Since 2016, she has shifted to exploring life in Accra: a city marked by stark economic division. As a figurative painter, she is inspired to paint portraits of ordinary people and how they live in Ghana. Rener has dedicated time to studying and representing "systems" of survival which she articulates through technically complex paintings and prints. Since her works incorporate mixed materials, paint, and screen printing, it requires focus and composition in a precise and methodical manner.

In 2021 her work was shown in Investec Cape Town Art Fair, South Africa and she has present her work in numerous group and independent exhibitions, such a solo show at Goroka galerija and Galerija Velenje in 2021, and large solo show with residency at Gallery 1957, Ghana.

This year Rener is exhibiting as invited artist at Kaunas Biennale, Lithuania and 35th Graphic Biennale Ljubljana, following her solo show at the Ravnikar Gallery. Her works can be found in the collections of MGLC, Velenje Gallery, KGLU, Gallery 1957, in the archive of the central library of Dr. Francet Sušnik and many other private collections.


---
Born in 1986, Slovenj Gradec (SI)
Lives and work in Accra (GH) and Ljubljana (SI)


︎︎︎INSTALLATION VIEWS
---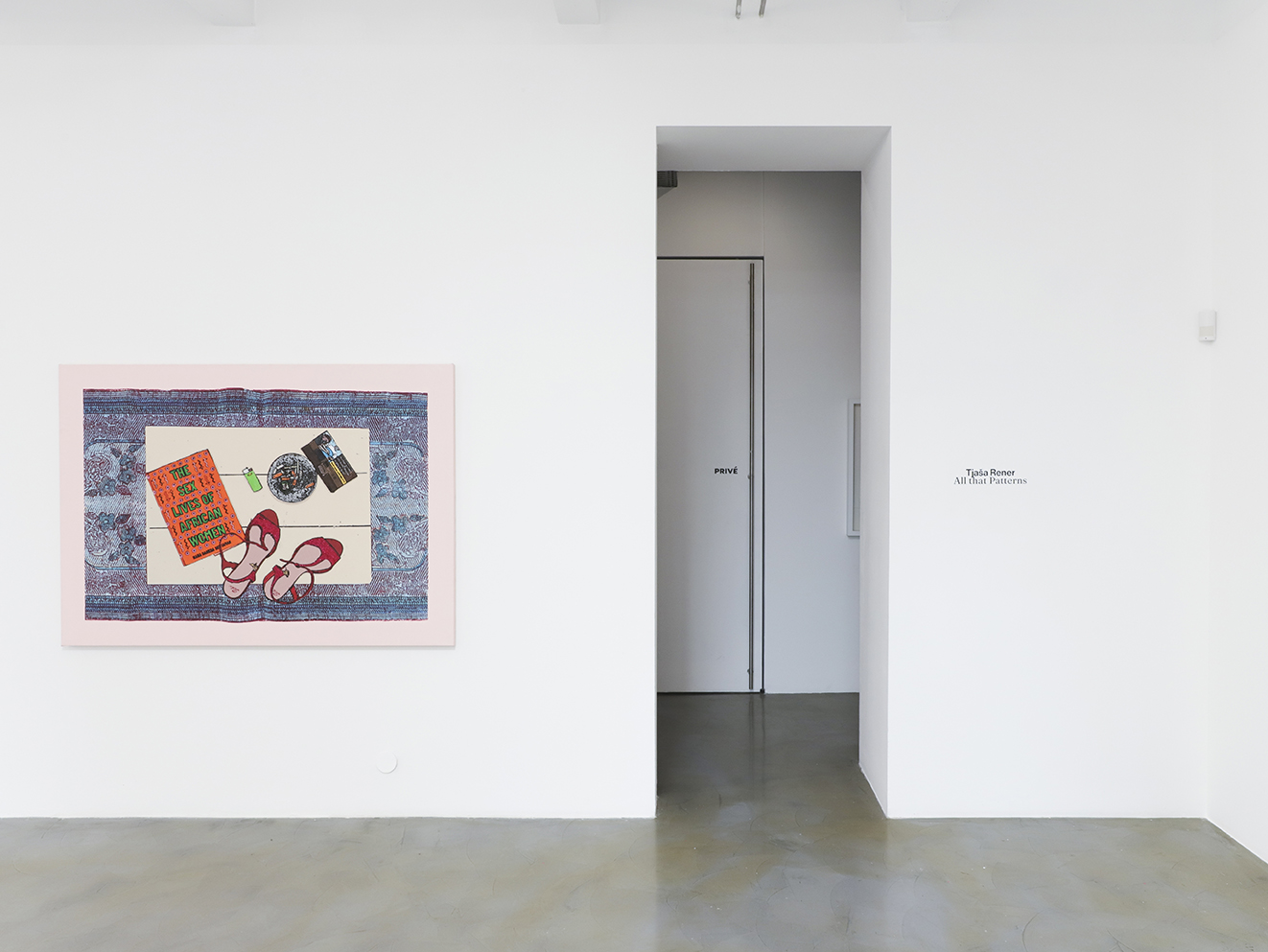 Tjaša Rener
︎︎︎AVAILABLE WORKS

---
---
Studio Accra
Acrylic and Silkscreen on Canvas
180 x 140 cm
5.760 EUR, excl. VAT
---
Hajmat
Acrylic and Silkscreen on Canvas
120 x 150 cm
4.850 EUR, excl. VAT
---
Garden of Mister James
Acrylic and Silkscreen on Canvas
230 x 170 cm
7.200 EUR, excl. VAT
---
5 a.m.
Acrylic and Silkscreen on Canvas
175 x 125 cm
5.400 EUR, excl. VAT
---
Tito Avenue
Acrylic and Silkscreen on Canvas
120 x 150 cm
4.860 EUR, excl. VAT
---
House Number
Acrylic and Silkscreen on Cardboard
21 x 29,5 cm
800 EUR, excl. VAT
---
Suvenier Corner
Acrylic and Silkscreen on Canvas
130 x 160 cm
5.220 EU, excl. VAT
---
Safety First
Acrylic and Silkscreen on Cardboard
41,5 x 33,5 cm
1.160 EUR, excl. VAT
---